OxyBits EasyShutdown
EasyShutdown
is a
freeware windows
utility for instant or delayed restarting, powering down and suspension of your pc.
Fast session locking and logging off through the EasyShutdown tray menu prevents unauthorized access to your machine when your system is left unattended. Delayed functions can be used to, for example, shutdown your computer after a download completes or when it has finished processing video or audio conversions.
EasyShutdown is a re-release of FSEasyShutdown. Compatible with Windows XP/7/8/10, 32 and 64 bit.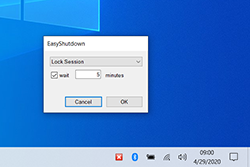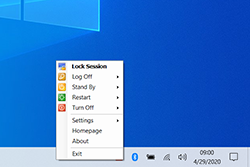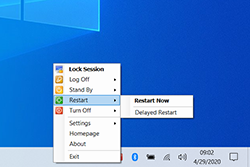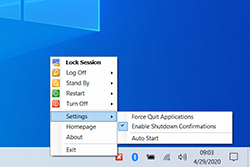 Releases
By downloading any of the files below you agree to the terms of this
license agreement
Download OxyBits EasyShutdown - 2.0.0 - 2020/04/29
Before installing, make sure you check the integrity of the downloaded file with the following file information:
MD5: 51a6732d6ac9412d6ddd22c8bf611fe4
SHA1: 09740c507cc9e188cc802ca2c2627d71b250666b
EasyShutdown is featured on :
MajorGeeks
,
SoftPedia
,
FreewareFiles